SAIGON (HO CHI MINH CITY)
Known by the Vietnamese as Ho Chi Minh City, this astonishing city, full of vitality, was the original "Pearl of the Orient". Nearby are the infamous Cu Chi Tunnels, which were used by the Viet Cong during the war.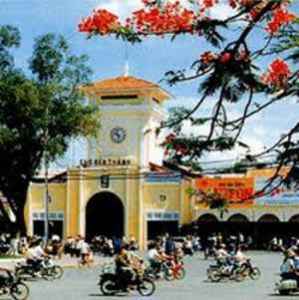 Along the old Rue Catinat and in the surrounding boulevards stand the relics of empire and revolution; Notre Dame Cathedral, the Opera House, the Post Office and the Reunification Palace.
Things to see and do in Saigon
This city is undergoing rapid change with growing numbers of gleaming skyscrapers, lively bars and a booming economy all under the watchful gaze of "Uncle Ho", whose statue stands proud outside the old Hotel De Ville. There is still plenty of local charm here – soup sellers ring their chimes to signify a freshlymade lunch, fortune-tellers read palms and the temples fill with incense – but the choice of restaurants is outstanding and the city also boasts some classy boutiques selling lacquer ware, silk and modern art. Tucked in the suburbs of the city, Cholon's Chinatown market is arguably the best example outside China.
Cu Chi Tunnels
Nearby are the infamous Cu Chi Tunnels, a network of over 250 kilometres of secret underground passages used by the Viet Cong during the conflict with America in the 1960s.
You are also able to see first hand the work done by a school supported by Audley, set up in 1986 by a local charity for the disadvantaged and street children of Saigon.
SAIGON (HO CHI MINH CITY)




Rating:

9

out of

10

based on

164

reviews.